KPUB's service territory is under a winter storm warning is under for periods of freezing rain and freezing temperatures through Thursday Morning.
While we are not anticipating this event to be like that of the February 2021 Winter Storm Uri event, it's important to always be prepared and take safety precautions for you and your family during extreme winter weather conditions.
Inclement Weather Office Hours
Out of an abundance of caution, our KPUB lobby will be closed tomorrow, January 31. The drive-thru will be open for service after a delayed start time at 10:30 a.m. As always, our crews will be available 24/7 to respond to any outages. Please stay safe and off the roads if possible as icy and hazardous driving conditions are being forecasted.
---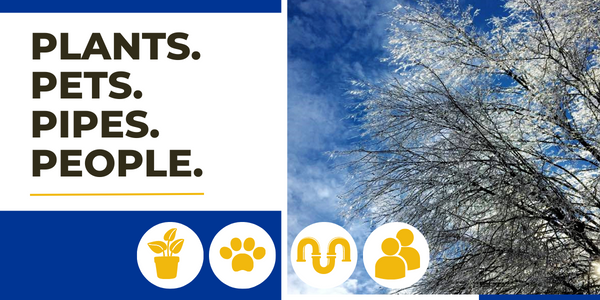 Protect Your 4 Ps:
PLANTS
• Wrap your plants or bring them indoors.
PETS
• Bring pets inside! On the coldest days, make sure not to forget about your four-legged friends. Hypothermia is the main threat to pets from the cold. Make sure to bring your pets inside where it's warm (long or short-haired).
PIPES
• Protecting your pipes may prevent disaster. When the temperature drops below 32 degrees, pipes can freeze and burst. Make sure to protect your pipes with the following tips:
Keep a steady drip. When the weather is very cold outside, let the cold water drip from the faucet served by exposed pipes. Running water through the pipe, even at a trickle, helps prevent pipes from freezing.
Open cabinet doors. Keep cabinet doors open under sinks in the kitchen and bathrooms to allow heat from inside the home to reach pipes.
Insulate your pipes. There are many different ways to protect your pipes, from heat to foam or rubber insulation. Whatever method you choose, make sure that not only are your pipes covered, but any other part of the house that may be covering it is crack-free.
PEOPLE
• When you're heading outside in cold weather, it's important to stay warm. Layer up in sweaters, large coats, gloves and something to keep your head warm.
• Never leave children or the elderly in vehicles during cold weather, as they can act as refrigerators and expose anyone inside to sub-freezing temperatures.
• Never use a generator, grill, camp stove, or any gasoline, propane, natural gas or charcoal-burning device to heat your home (or any enclosed area). These devices can generate carbon monoxide, which can't be seen or smelled, but is deadly.
• Check on your friends & neighbors (& use space heaters & electronic heating blankets safely)
For KPUB's space heater tips, click here.
---
Be Outage Prepared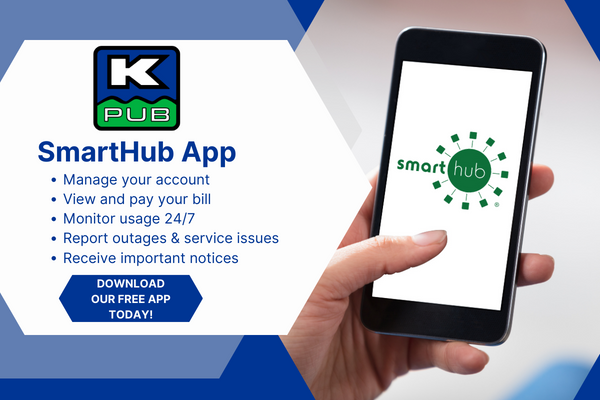 • Keep your cell phone & important electronic devices charged
• Have an emergency kit on hand
• Use flashlights & have batteries on hand for emergency lighting
• Download the KPUB SmartHub app
NEW! Sign up for text alerts—stay on top of power outages with text updates! KPUB now offers a two-way text messaging service to report and receive updates on an outage. Sign up today to receive these messages from KPUB by adding your mobile phone number to SmartHub or call 830.257.3050 and verify your mobile phone number to ensure you receive these important messages. Learn more here.
Monitor our KPUB social communications for important, real-time outage updates whenever possible on the following social media communication channels:
• Facebook
• Twitter
For more of KPUB's winter preparation and outage tips, visit www.kpub.com/winterprep.
---
If You Do Experience a Power Outage
• Before calling us to report a power outage, check your home's panel box. A blown fuse or tripped circuit breaker could be at fault.
• Report it 24/7 through your KPUB SmartHub acct or by contacting us at 830.257.2883.
• Despite the best efforts of KPUB, power outages happen — causing some customers to use portable emergency generators. Click here to read our tips for using generators safely.
• Keep refrigerator and freezer doors closed to keep your food as fresh as possible.
• Visit our KPUB Power Outage Center for FAQs and additional outage tips by clicking here.
---
ERCOT & Energy Demand
KPUB is continuously monitoring weather outlooks and grid conditions. While Texas is anticipating high energy demand, ERCOT projects to have sufficient generation to meet the high demand for electricity. ERCOT has not issued any energy conservation warnings at this time.
We are not anticipating this to be a severe event for major outages in our service area, but we are prepared and are on standby 24/7 to keep the lights on safely and reliably for you all.